How to Set up Review Profiles
Does your business really need profiles on multiple online review platforms? In a word, yes! The more complete your online presence is, the more chances you give customers to build trust with your brand.
That starts with you creating business accounts on sites like Facebook, Yelp and Google. These platforms are where a large majority of consumers go to (1) find local businesses and (2) decide whether or not to make a purchase or request services from those businesses.
Luckily, setting up profiles on Google My Business, Facebook, and Yelp doesn't have to be a time-consuming process. Just follow the steps below to drive more business through your doors and begin forming those strong connections with a wider audience.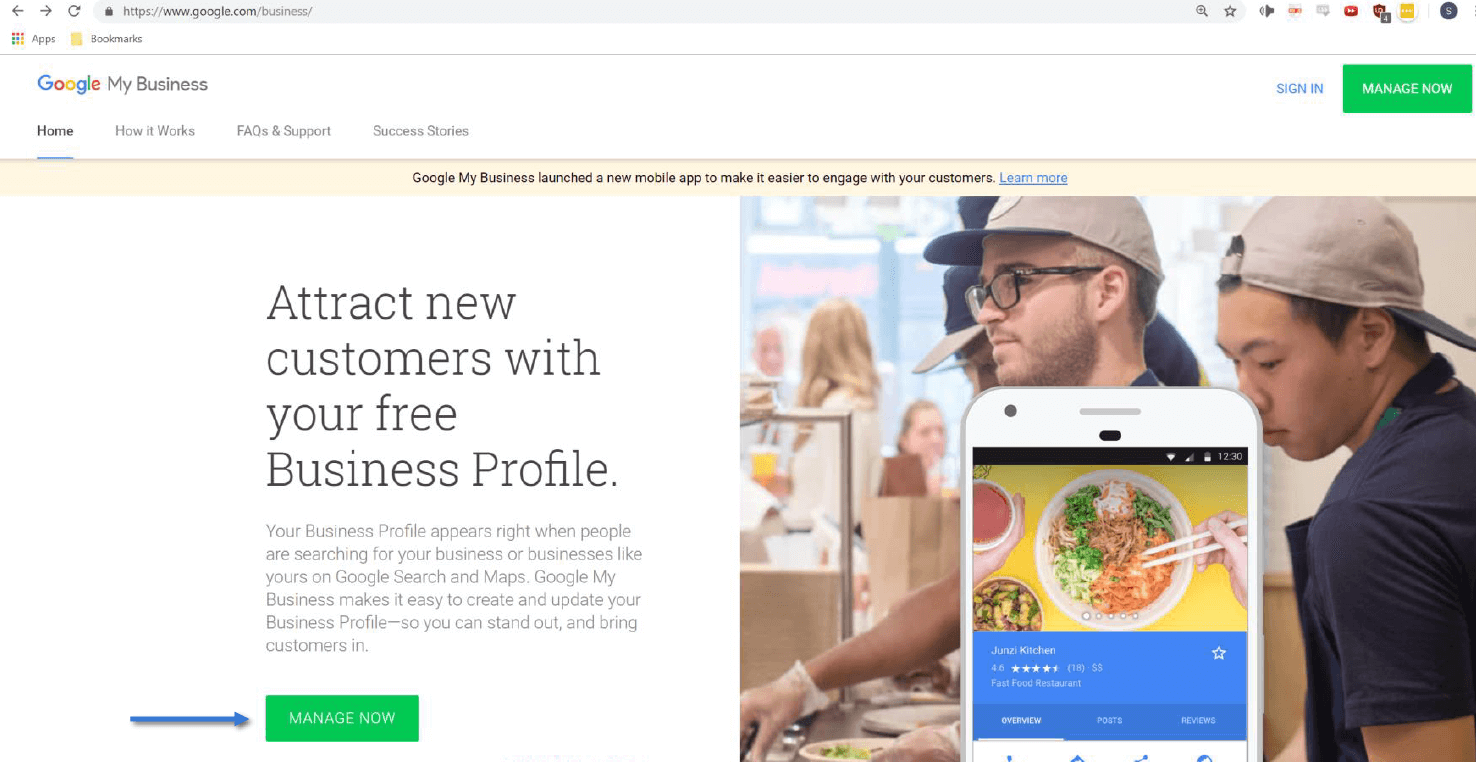 Creating a Google My Business Page
Manage how your business appears in Google and Google Map search results by first indexing it in the Google My Business platform. This free resource is where you will be able to monitor reviews left on Google, as well as share your story with customers searching for your products and services on the platform.
Navigate to google.com/business and click on the "Manage Now" button.
Input the name of your business and press the "Next" button.
Input your address into the required fields and if your business delivers goods or services to customers, check the small box directly above the "Next" button. Then press the "Next" button.
Input your business category and press "Next."
Input the phone number that customers will reach you at and your website URL. If you don't have a website, you can select "I don't need a website." Press the "Next" button.
Select the "Finish" button.
To be able to fully manage your business on Google, you will have to confirm it is your business with a verification code. Most businesses get theirs by postcard in the mail, some may be allowed to do so through a phone call or through email. Select your option from the screen of how you will want to verify. You can also choose to verify later.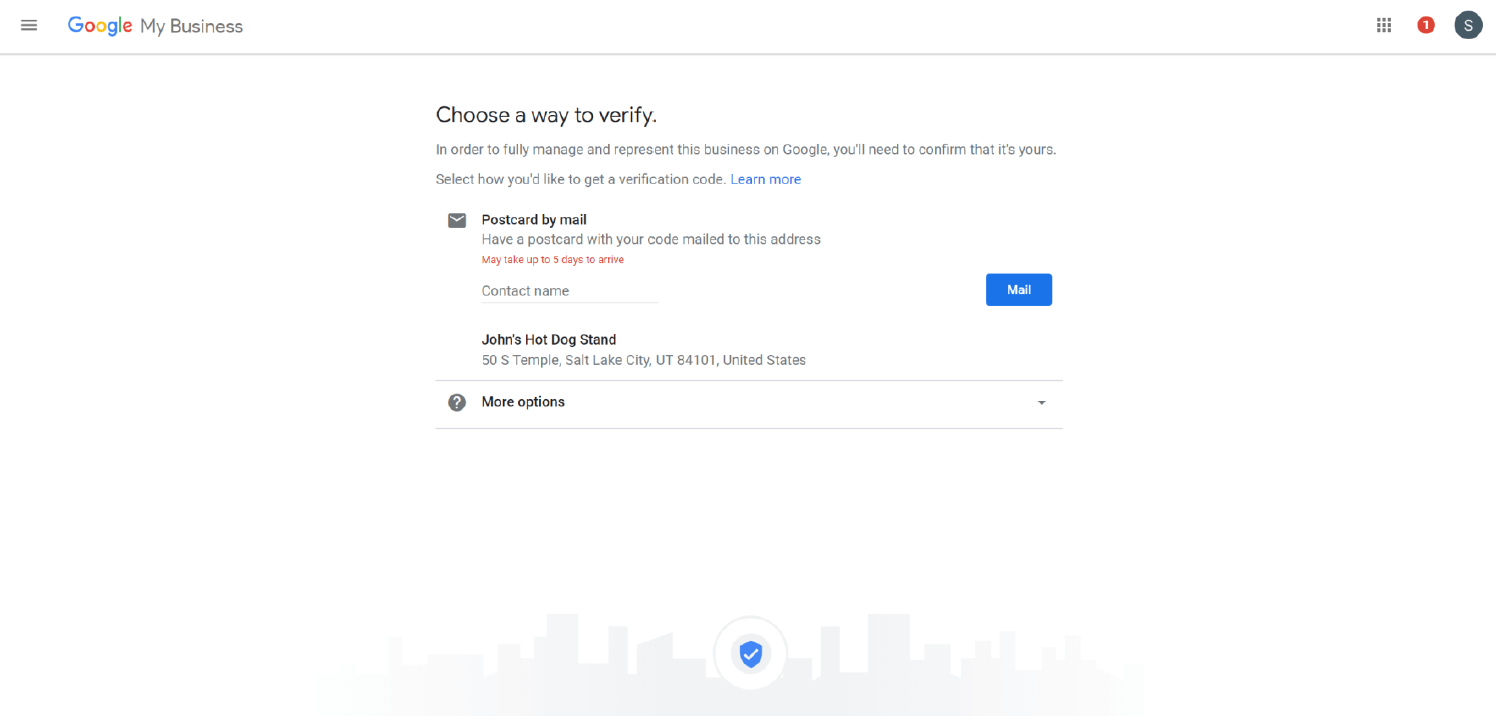 Select the "Get Started" button.
You will now be at your Google My Business homepage. There are multiple guides on the homepage that you will want to follow to add things such as hours, contact info, descriptions, create posts for customers, etc. Also, if you chose to verify later in step 7, you will see a button on the homepage that says "Verify Now" select it whenever you decide to verify.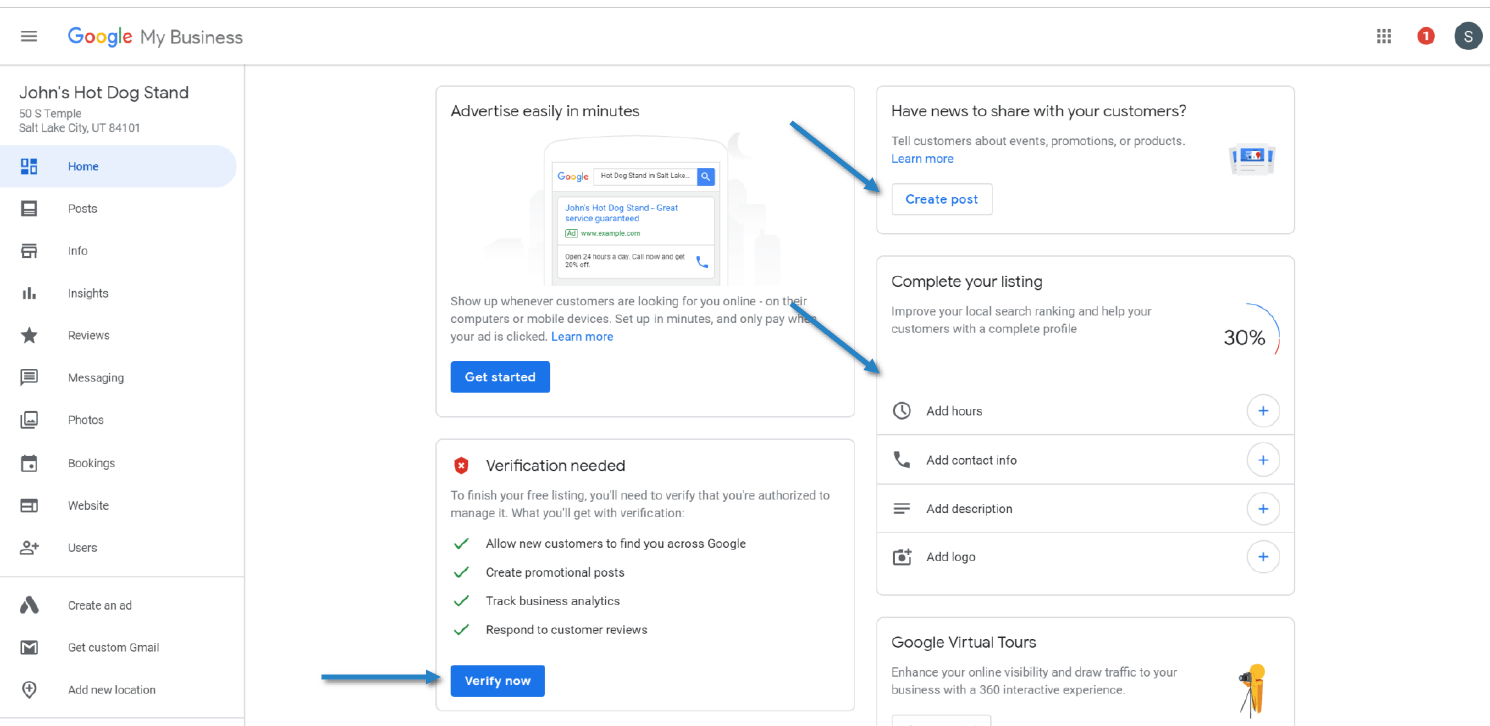 When customers begin to leave reviews for your business, you can access them through the "Reviews" tab on the left side of the page. Note: You may only respond to reviews after you have verified your business.
Creating a Business Facebook Page
Engage with your audience on this popular social media platform where additional online reviews can be left! Businesses with a strong and active Facebook presence can reach more customers and interact with them easily.
Navigate to www.facebook.com.
Click on "Create a page for celebrity, band or business" located beneath the sign up button.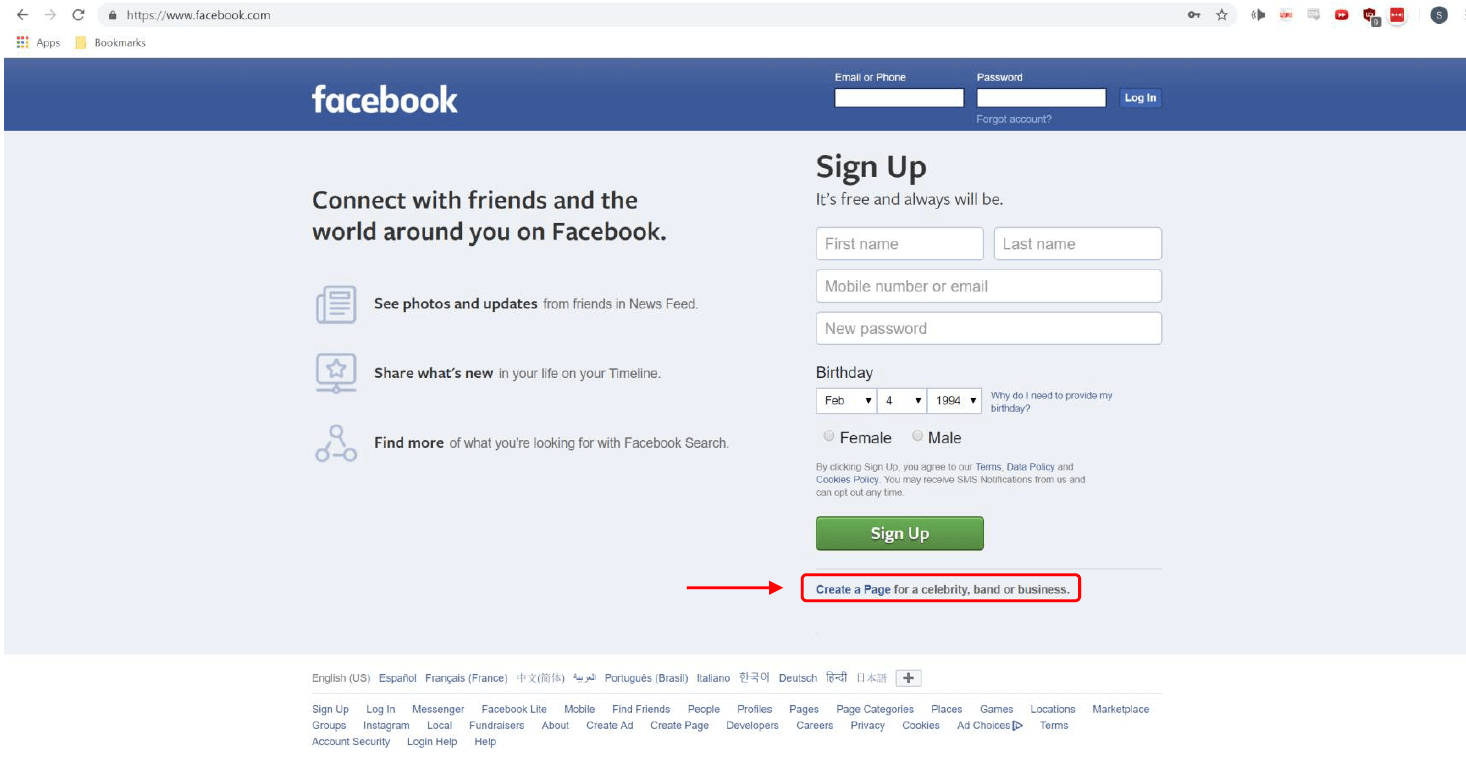 Select "Get Started" under the "Business or Brand" box.
Next, login with your personal Facebook account if you have one OR click on "Create New Account." Note: If you already have an account and were able to login, skip steps #–#.
Fill out all the fields and press the "Sign Up" button.
After you confirm either your phone number or email, you will be taken to your homepage. From here, select the drop down menu from the top right and click on "Create Page."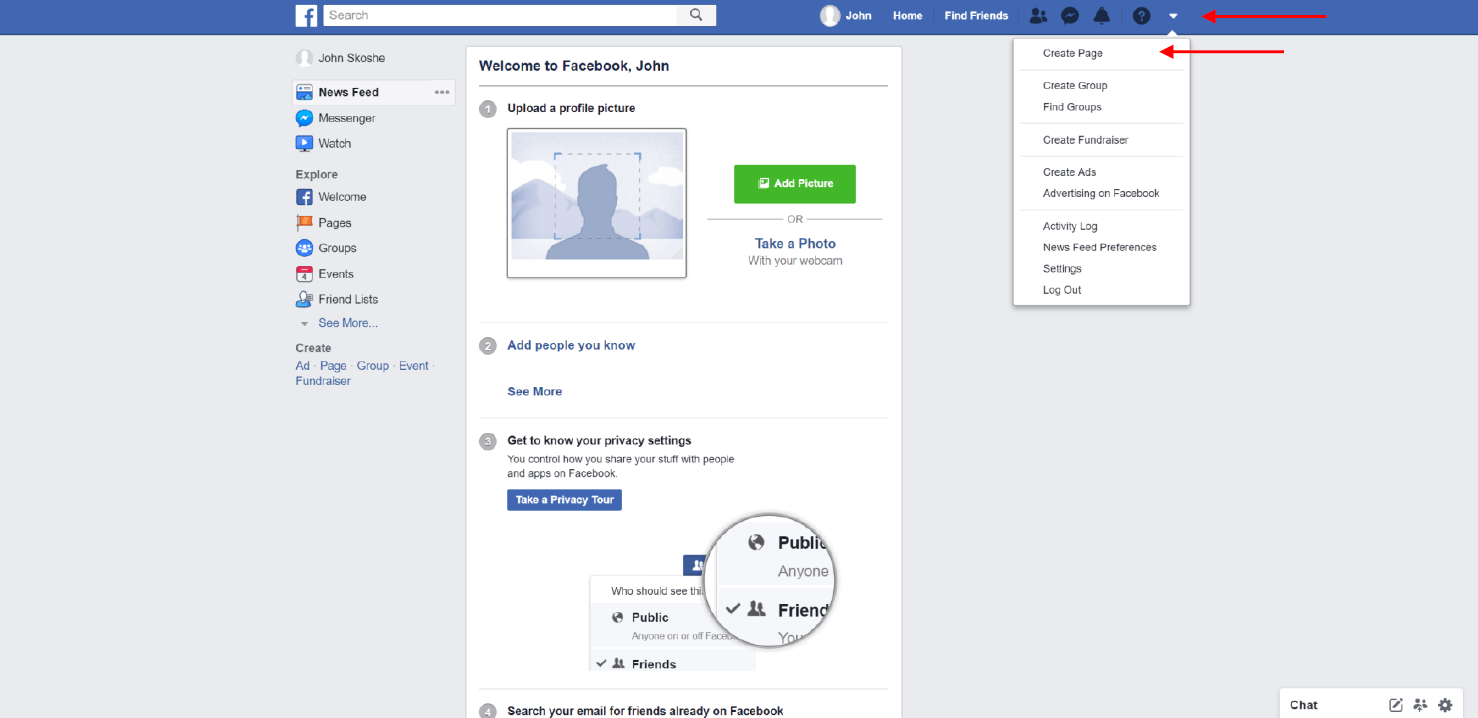 Now click again on the "Get Started" button.
Fill out all the required fields.
Press the "Continue" button.
Choose and upload a profile picture and a cover photo from your computer.
Click the "Skip" button is you do not have a picture. You will be able to add a picture later on after your profile is created.
After uploading your photos, you will be taken automatically to your business' homepage. You will now want to click on "Add a Short Description" and write a little more about your company. If you didn't upload a profile picture earlier, you can do so by clicking the plus button on the top left.
Now that you have the basics of your page set up, we recommend that you click on "See All Page Tips" in the center of the screen to add features and information that will enhance your page like business hours, business phone number, buttons, etc.
People will now be able to leave reviews on your business' Facebook page! After customers leave reviews, you can see what they wrote and respond to them by clicking the "Reviews" tab on the left side of the page.
Continue to customize your page to fit your business' style. Try adding buttons, creating posts, creating events, etc. to better engage your customers and keep them active with your business.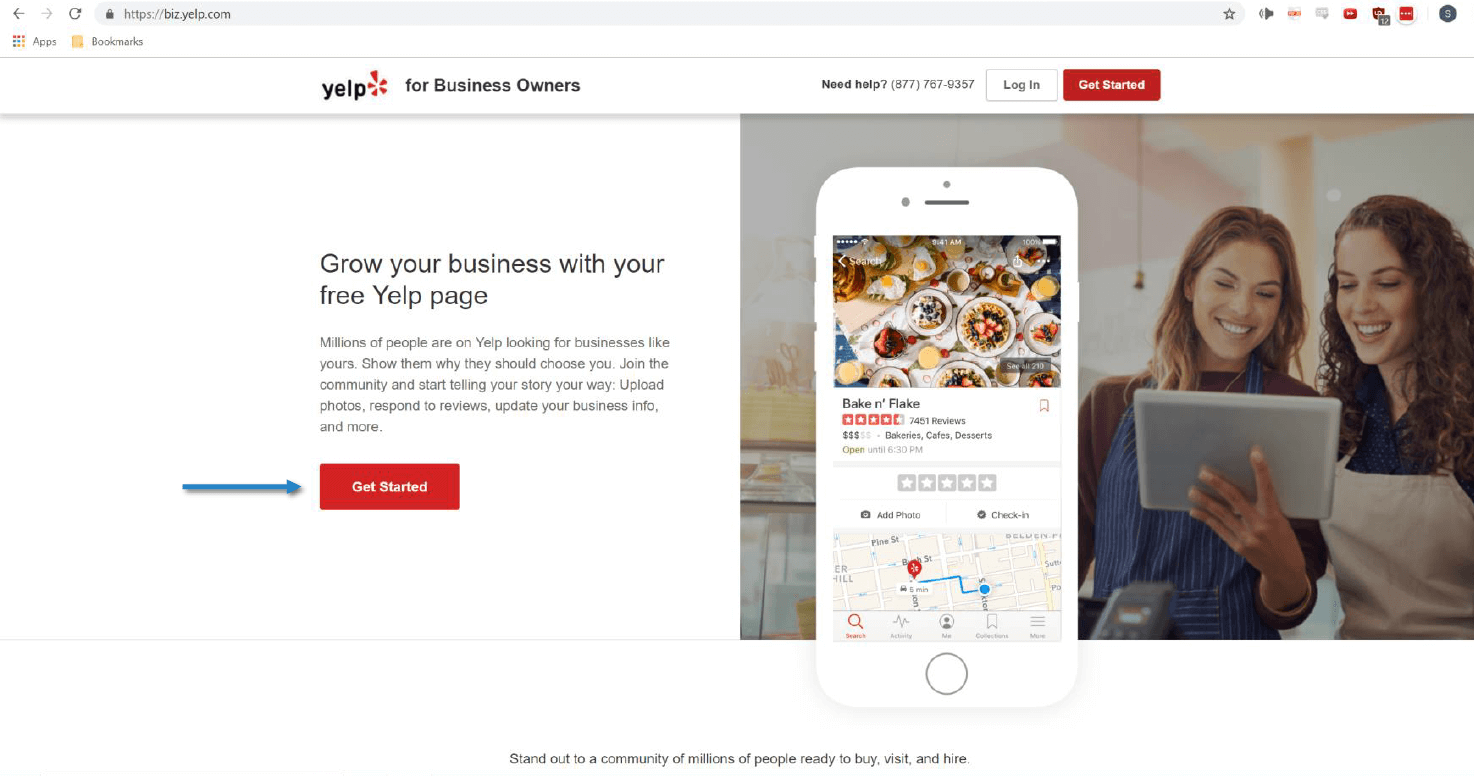 Creating a Yelp Page
Many consumers search for local businesses through the Yelp platform where they can easily read reviews from past customers. Be where these consumers can find YOU by setting up a Yelp account for business owners.
Navigate to biz.yelp.com and click on the "Get Started" button.
Fill out the zip code your business is located in and input the name of your business. Then, click the "Continue" button.
Fill out all the required fields on the "Add Your Business" page. You will be required to put in the address, phone number, hours, category, and your email address. When you have finished filling those in, click the "Add Business" button.
You will then be required to confirm your email address. Go to your email inbox, locate the email from Yelp and click the "Confirm" button.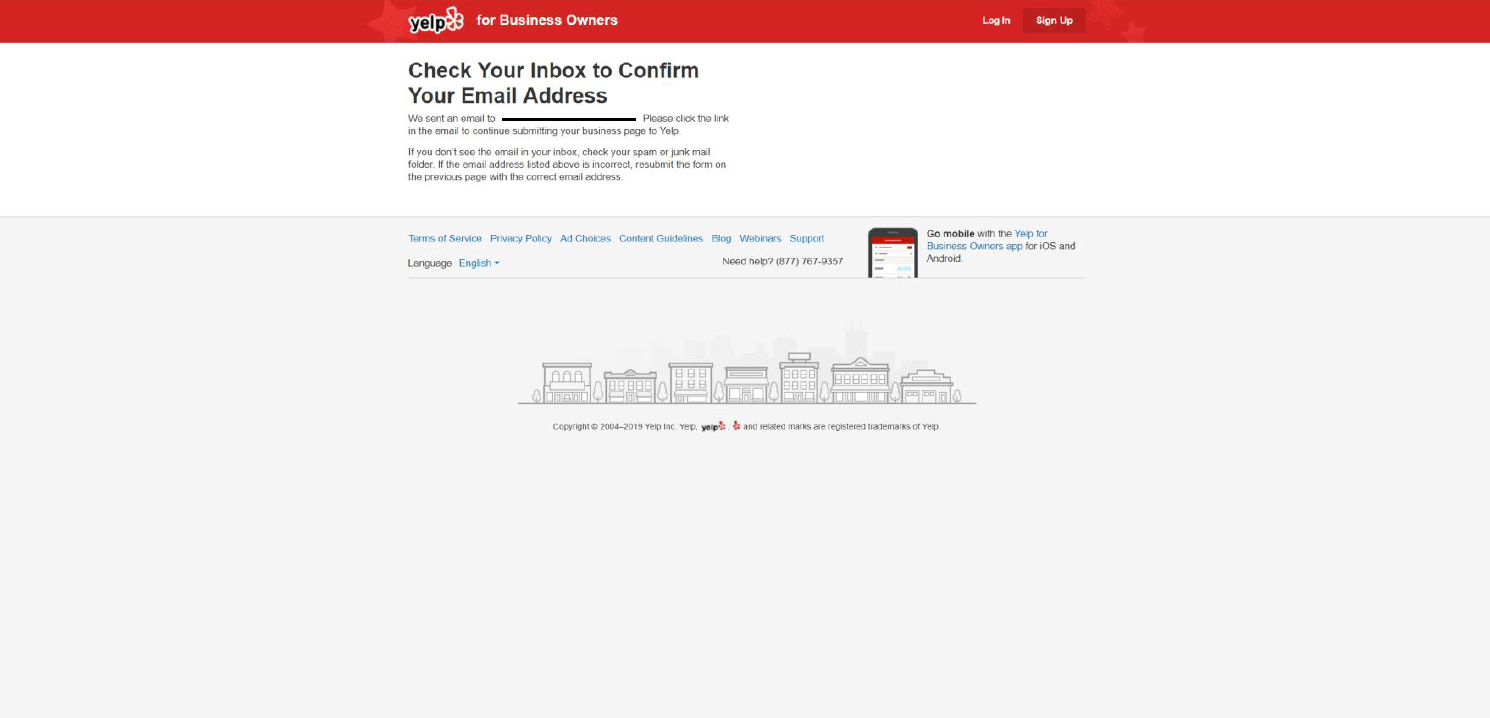 After confirming your email, you will be redirected automatically to a page that prompts you to create a free business user account for your business. Fill out your first and last name and create a password for your profile. Then, click the "Continue" button.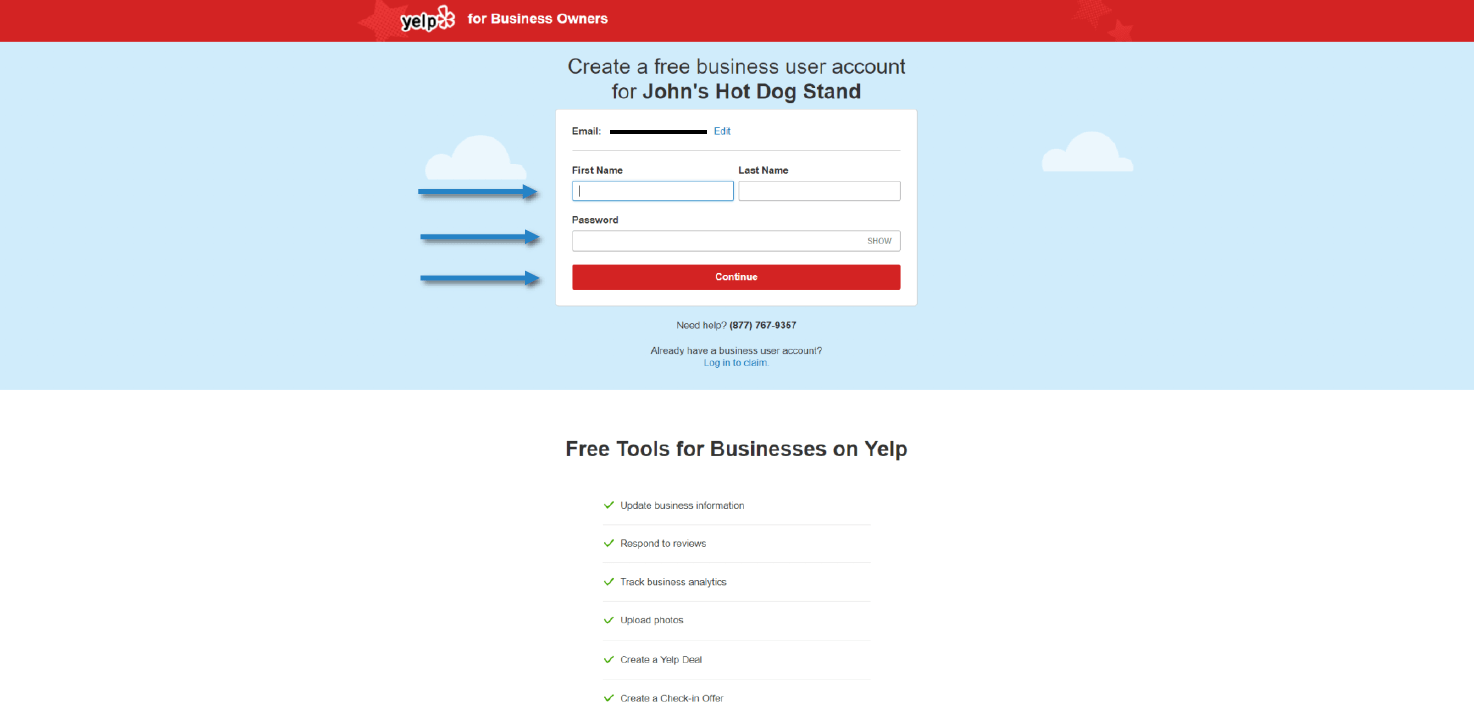 You will be asked to verify your phone number in order to claim your business. You may do so via text message or phone call. Select one of the two options.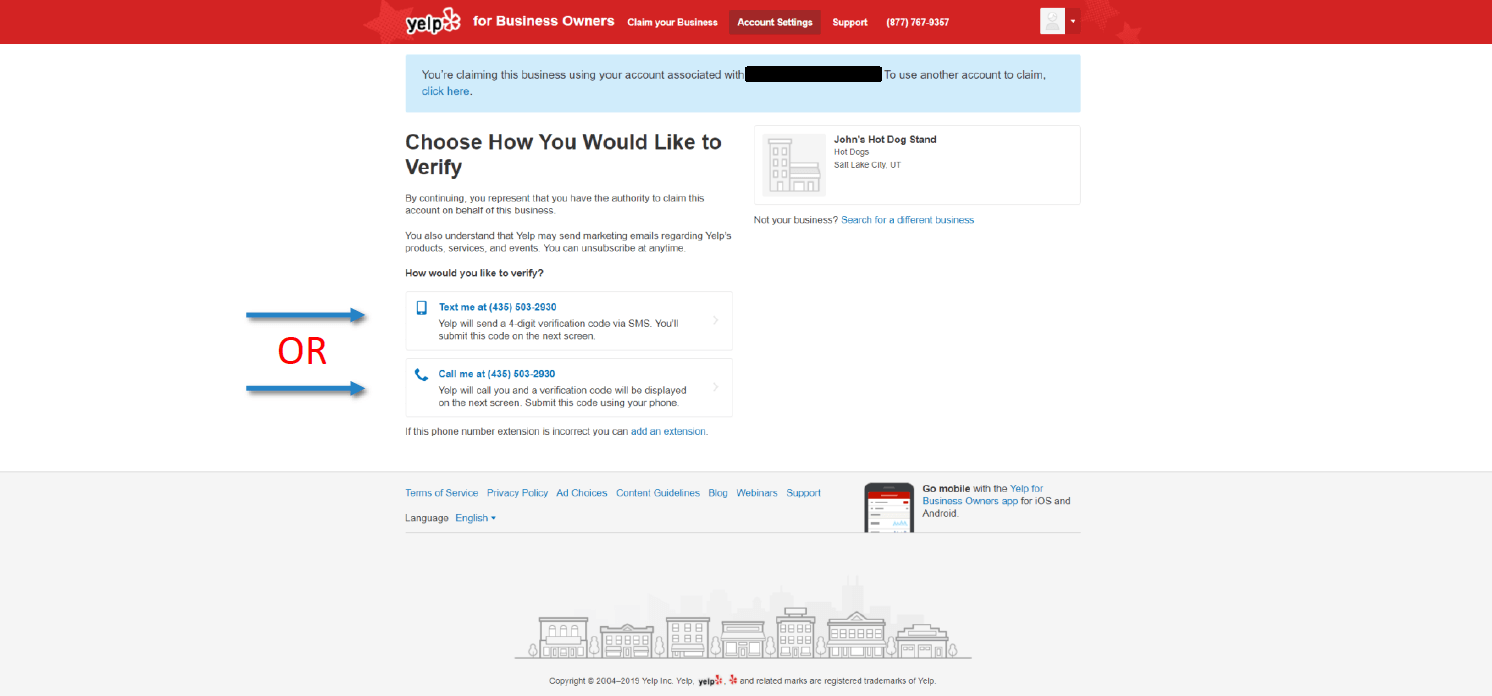 Enter the four-digit verification code that you received either through text message or over a phone call, depending on the option chosen in the previous step. Input the code and click the "Continue" button.
Your business is now claimed. You will be taken to a page that asks if you would like to get started with Yelp ads. To get to your business' home page, click on "No thanks, continue to my business." You will be able to return and learn more about Yelp ads from your business' home page.
You are now at your business' home page. From here, we suggest you follow the guides on the top of the page to enter a description of your business' specialty and add photos to your page.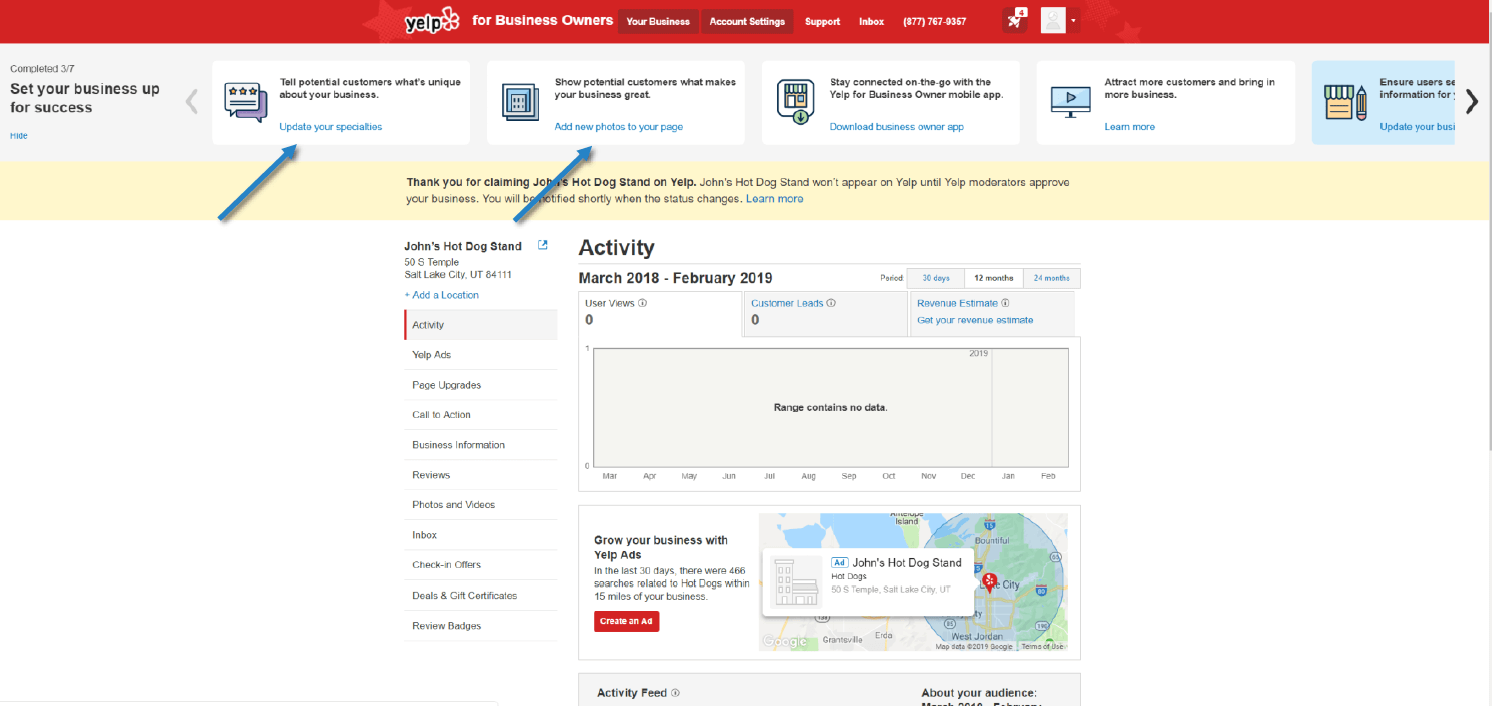 You will see in a yellow bar towards the top of your business' home page that your business will not appear on Yelp until it is approved by their moderators. You will be notified via email when you have been approved. Only after that will your customers be able to look up your business and write reviews on your page.
When you have been approved and customers leave reviews on your page, you will be able to view them by clicking on the reviews tab located on the left side of the screen.
Establish Your Online Presence
Begin today to set up your online presence on Google, Facebook, Yelp, and other platforms. In other words, be where your customers are! As those reviews start coming in, manage your online reputation by responding promptly and professionally to new reviewers. Local 360 Media makes it easy to keep a close eye on reviews across platforms with our convenient review monitoring services. Receive alerts about any new positive or negative reviews on all of your profiles in an instant. Contact us today to learn more!